3 bundles kinky straight virgin Indian hair weaves sell together, it is a good choice for you to save money and enery. Only buy one time, you can have enough hair weaves to do hair extensions, and buy three hair weaves are cheaper than buy it one by one.
Item NO: IKW31
Hair Type: Indian Virgin Hair
Hair Texture: Kinky Straight
Quantity: 3 bundles
Weight: 95 grams per bundle
Our indian body wave is 100% human virgin hair, as well as our other hair weaves. Virgin Indian hair weave could be straightened and dyed to any color, such as virgin indian hair for sale and virgin indian hair weaves. All of our hair weaves like indian body wave hair and virgin indian hair have many choices to the color, you can select what you like most. Except hair weave, we also have hair wigs and hair extensions to help you possess your dreamy weave hairstyle.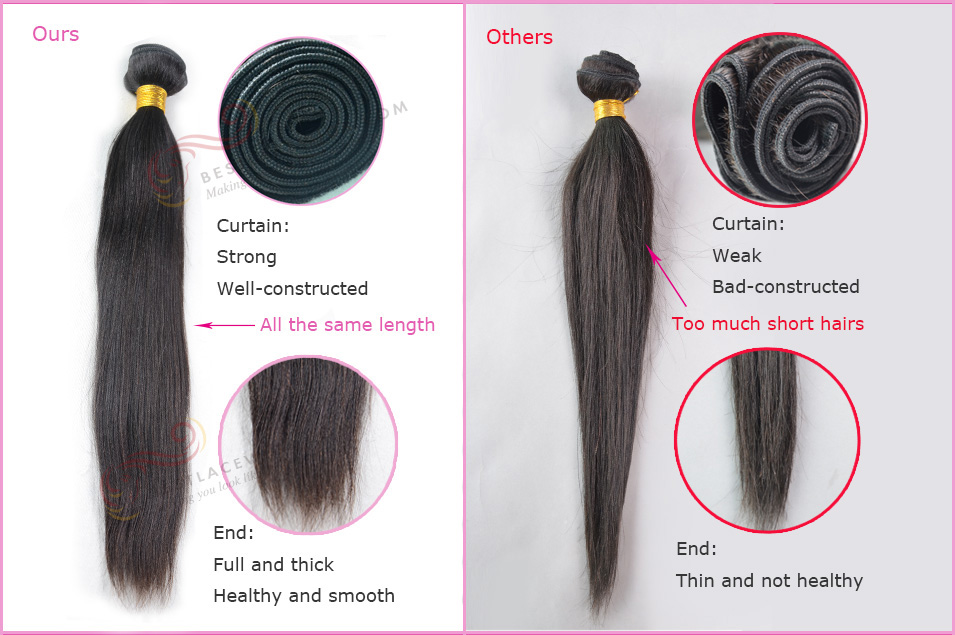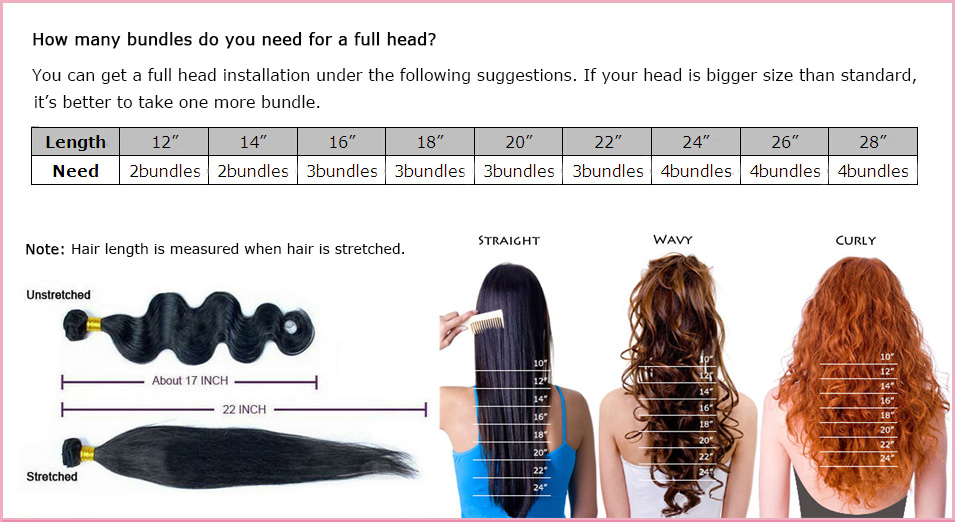 Video Reviews of 3 Bundles Kinky Straight Virgin Indian Hair Weaves [IKW31]
Customer Reviews
Customer Comments of 3 Bundles Kinky Straight Virgin Indian Hair Weaves [IKW31]
By: la***i (Posted on 10/29/16)

Very fast shipping. Ordered ins Wednesday, and got the hair by Monday. They also responded to my messages very quickly.. I would definitely recommend the hair. I got 10 12 12, and still half bundle left. Nice texture. Love it!
By: ad***e (Posted on 9/4/16)

I usually love BLW and I was excited to get this hair because of all the reviews. The hair smelled bad when it arrived. As soon as I took the hair out of the box and ran my fingers through the bundles there was shedding, in all 3 bundles. The ends are very raggedy and nappy. The hair is kind of dry and does not hold a curl very long. Maybe I got some from a bad batch. I ordered 18,20,22 and they were true to length. I have had this in less than a week and time will tell as to how long it really lasts. Most of my BLW lasts for years but I just don't foresee this hair lasting that long. Shipping was fast as usual.
By: be***y (Posted on 8/20/16)

The bundles texture is very beautiful,I will definitely be ordering from here again.
By: na***a (Posted on 8/5/16)

Great communication & Fast shipping. Hair is very beautiful! Can't wait to install it!
By: su***n (Posted on 8/3/16)

I like the hair very much ! When i install the hair wefts it's very natural just like my own hair.And the hair is very soft and shining .I want to reorder another length .
By: be***a (Posted on 5/23/16)

I like this hair and I have had it in for two weeks as a sew in. So far it mats at the nape of the neck and it gets Tangled easily. I'm not sure if I purchase again before the price I guess the hair is ok. Maybe next time I'll try Brazilian kinky or Yaki instead.
By: pa***y (Posted on 3/29/16)

Love the hair. After washing it it look more pretty.
Received the hair in 4 days to Sweden
By: sh***n (Posted on 3/25/16)

Hi everyone, I just made my very first sew-in wig and I am loving it. BLW you are the best. I have alopecia and I have shaved head bald for years and I've worn weaves every since my hair loss began but this fabulous. Thanks BLW for helping me feel even more beautiful.
By: ta***o (Posted on 2/15/16)

I got the hair and it's beautiful. Thanks so much!
By: se***s (Posted on 1/11/16)

Wow the texture of the hair is so natural looking and it blends so beautifully
By: ov***n (Posted on 1/3/16)

I ordered 3 bundles 28inches hair. It's nice. But it seems that it is not enough for a full head. Maybe I should took 4 bundle next time. Over all, I love the hair.
By: sn***w (Posted on 12/29/15)

You guys shipped so fast! I got the bundles only in 3 days. The hair is good and texture is pretty beautiful. I love this hair.
By: ta***o (Posted on 12/23/15)

shipping fast and texture is nice.The quality of the hair is good. I'd like to bu this twice!
By: be***2 (Posted on 12/11/15)

I am in love with the texture of this hair. It is soo soft and fluffy and matches my hair texture blow out. I'm really impressed with the quality of this hair. I will definetly be ordering once again.
By: al***e (Posted on 11/20/15)

This hair was nice. Only gave it 4 stars because it was a little stiff the longer I kept it in, was about two weeks I would not recommend washing the hair just keep oil on it. It loves oil looks very natural. Two bundles is enough for a full head I love this hair and will be ordering again.
By: al***e (Posted on 11/20/15)

This hair was gorgeous, lots of compliments I will be ordering again. Make sure not to use a lot of product. This hair loves oil it helps that's all u really need. So natural.
By: bo***y (Posted on 11/12/15)

Got my hair!!I am so happy to receive it within 4 days...that's really fast. The bundles are very thick and can make a full head...Really nice hair...Will order soon in future!!
By: xi***e (Posted on 10/21/15)

These bundles are very full. I ordered 3 bundles 16in and made a full wig with a closure I ordered before. It is very nice. I love it so much.
By: se***a (Posted on 10/15/15)

Very good hair, so soft and little split ends also.The reason why I deducted a star was because the bundles were on the thinner side but that's because I ordered quite long lengths, luckily I had some Brazilian left over. If you are ordering bundles over 22" definitely order an extra bundle. The wefts were sewn very neat and I get minimal shedding (I did not seal the wefts). Fast delivery also. Happy customer!
By: ta***a (Posted on 10/5/15)

Great bundles. Everything is good until now. I love it.
Write Your Own Review
Q & A
There is no product questions yet.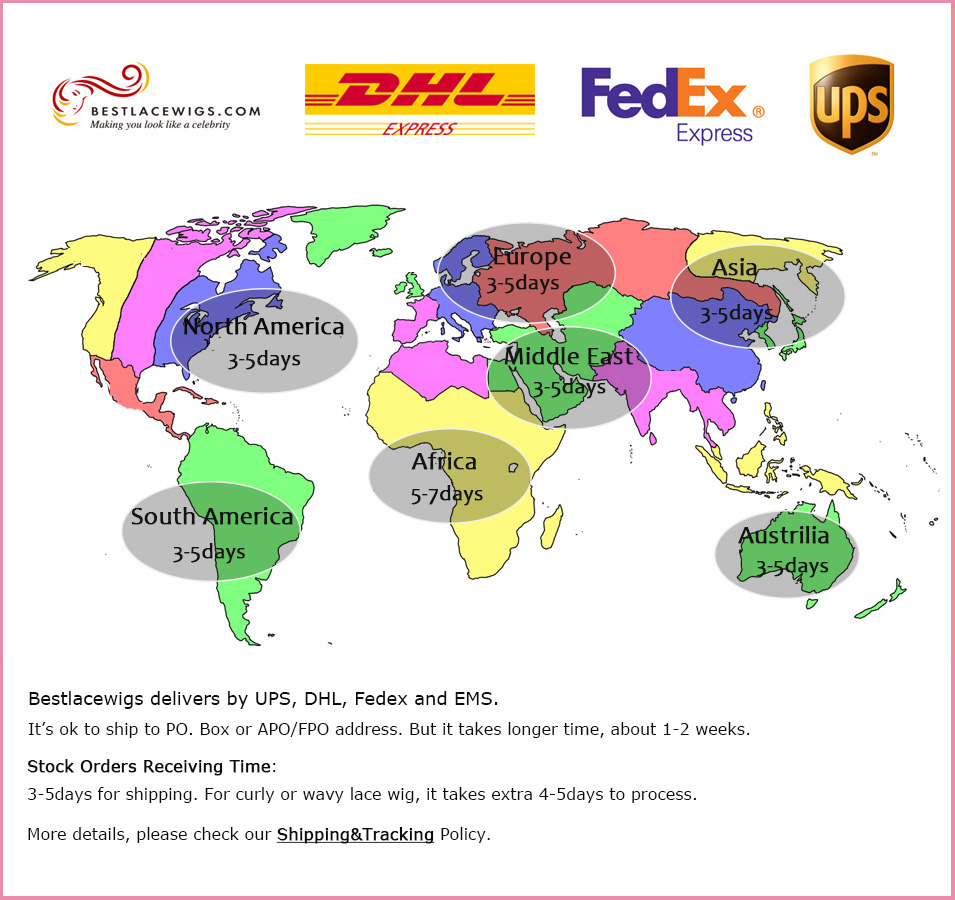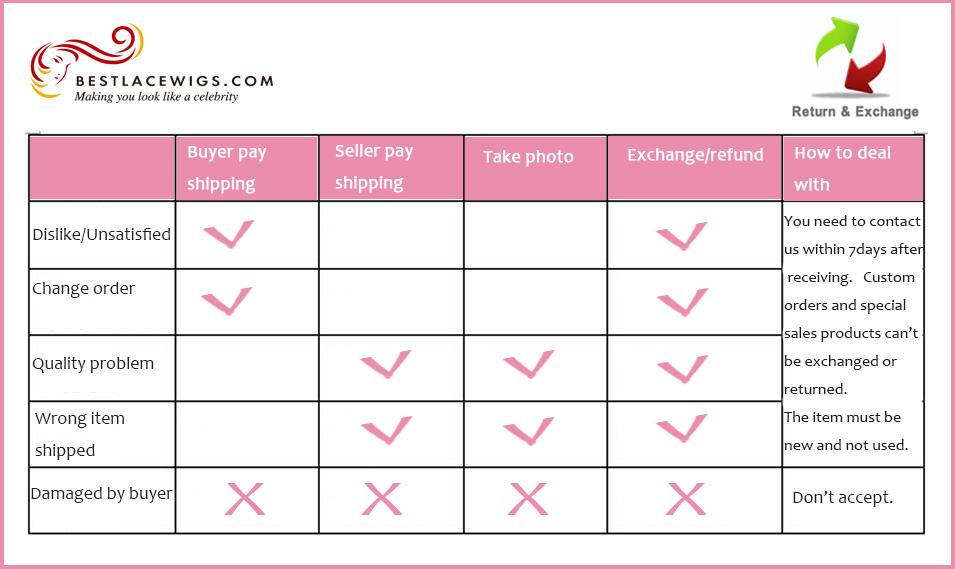 Click here to download the detail document.